Energy monitoring and targeting in pharmaceutical industry
Insight in your energy consumption is the first step in your energy savings and performance process. But that's only one side of the story, since your energy consumption probably depends on many factors, such as:
Production quantities of your plant

Occupancy of your plant/buildings

Size of your company (in number of persons or plant/building area)

Energy efficiency of your installations

Ambient conditions such as temperature and humidity
By monitoring relevant factors inside your company, you are able to keep track of your performance and to compare your performance to others (benchmarking), but you are also able to measure the performance of investments in e.g. energy efficiency and energy savings projects.
To  keep track of the relevant factors inside your company a monitoring and targeting system can be set up. However, setting up such a system brings in many questions like: What are our relevant factors? And how to measure them? How often do we need to measure them? How do we process the measured data into valuable insights and performance reports?
In our work as energy consultants we have helped many companies bringing valuable insights into their energy performance and setting up performance tracking systems. We gladly offer to bring insight in the energy performance of your company by setting up a "Monitoring and targeting" system.
Our core activities with regard to monitoring and targeting are:
Comparing your energy use to benchmark values;

Determining (internal) benchmark and target values;

Performance measurements of specific devices or processes;

Assessment of measurement quality.
Don't let numbers be a maze, but let them tell an energetic tale by keeping track of your activities!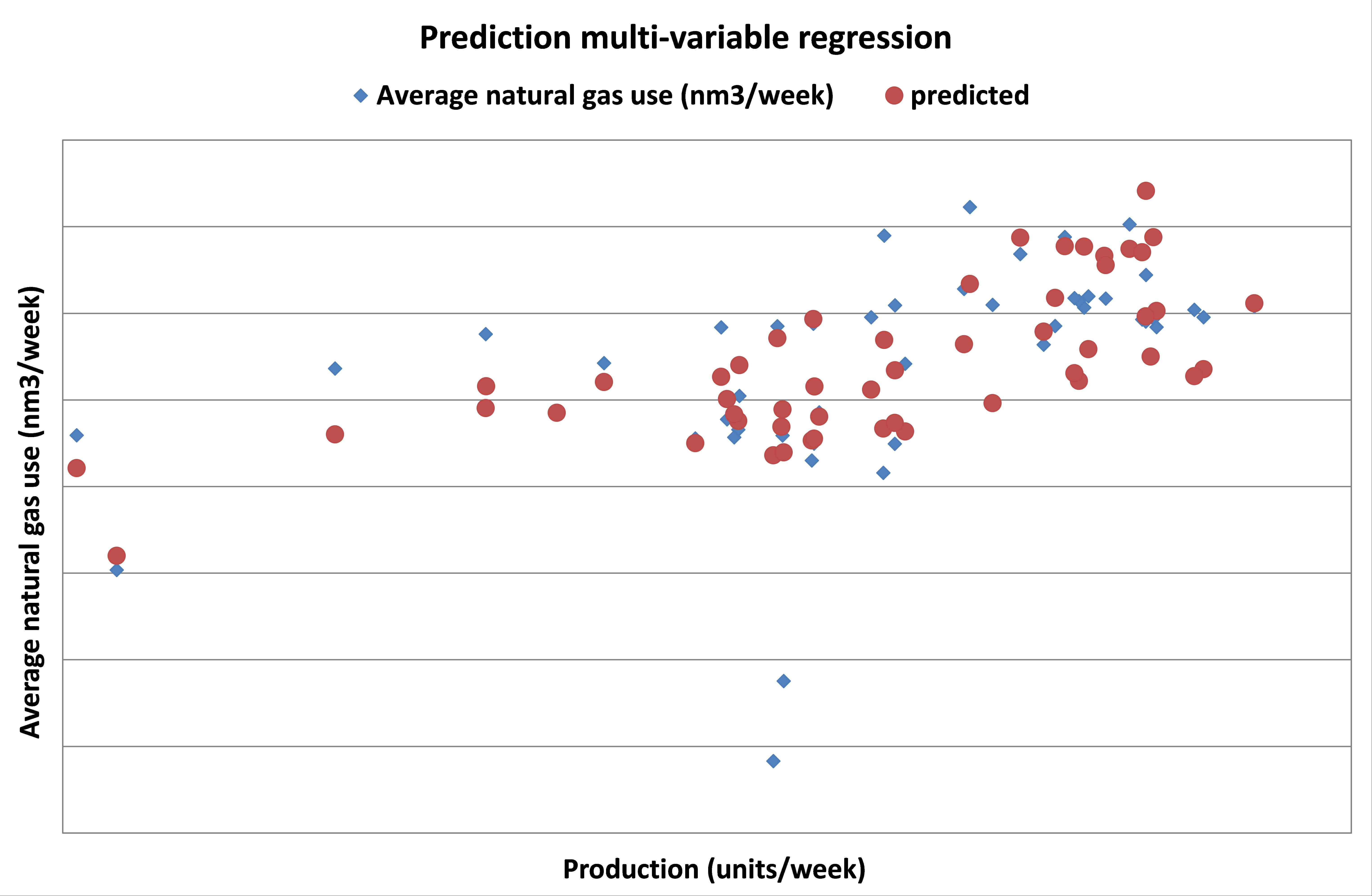 Example reference
In the graph above the natural gas consumption of a production plant in relation to the production intensity is shown. The blue dots represent the measurement values and the red dots represents the predicted values based on multi-variable regression. Based on the prediction it is possible to estimate  the energy use in relation to the amount of products produced.
Is a Monitoring and targeting system of use for me? And if so, what are the benefits?
In our experience, the awareness created by a Monitoring and targeting system, will in itself, result in an energy saving of 5-10%. In order to obtain a substantiated investment proposition we help you answer the following questions:·      Which appliances consume the most amount of energy?
 Which appliances consume the most amount of energy?
What are the main impact factors? (e.g. ambient temperature, production quantity)
Which investments are necessary for proper measurements?
Who is responsible in the organization for the specific energy costs?
Who needs what information to assess the energy utilization?
Which investments are necessary for automation? (i.e. automatically generate reports)
What is the expected payback period for the necessary investments?
The result is a substantiated investment proposition.
How do I set up my Monitoring and targeting system?
To help you implement the Monitoring and targeting system BlueTerra can assist you in de following activities:
gather information to produce a cost balance with regard to the energy consumption;
determine the company ambitions and appoint employee responsibilities;
Together with technical employees evaluate specific Monitoring and targeting issues;
Determine expected energy saving profits due to Monitoring and targeting;
Tendering and commissioning of the Monitoring and targeting system.
This will result in a proper and customized Monitoring and targeting system. In our experience this will result in reducing energy costs due to the created awareness.