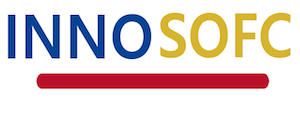 INNO-SOFC – improving the market uptake of SOFC technology
The main objective of this project is to design, assemble and demonstrate a novel 60 kW SOFC power plant based on an all-European value chain from component manufacturers to end-users, with significant cost reductions, improved efficiency and longer life-time compared current SOFC systems. The specific objectives of the project are:
> Design and manufacturing of 60 kW SOFC system with 60% electrical and 85% total efficiency.
> System and components enabling for a lifetime of 30000 hours and two-years continuous operation without planned shut-downs.
> System efficiency and life-time validation according to IEC standards in 3000 hours demonstration.
> At least 30% reduction in system costs, below 4000 €/kW  stack costs
> Stack life-time and performance validation in 10000 hours test.
> Identification of most promising end-users and applications for stationary SOFC systems.
> Efficient all-European SOFC value chain from component manufacturers to end-users
> Boost market penetration of stationary fuel cell products and services
BlueTerra has provided insights in the identification of end users and their business cases. Therefore, we developed a business model tool that helps potential end users to get insights in the benefits of SOFC technology. The Excel tool can be downloaded via the link below: